Wooden doors
For so many decades, wooden doors occupied doors sector all over the world due to its efficacy they are used widely everywhere in the globe as interior and exterior doors dominating the whole market. Its position is due to its durability and the ease of customizing woods in every wanted shape and color. Giving endless options for the costumers to choose from.
Wooden doors have evolved through time from solid wood panels into a verity of options based on doors covering panels and different inside cores and based on these differences they branched into many wooden doors types most known of them are what we will talk about in this article.
Before diving into wooden doors types, we have to understand that these types are related to the panel cover specifications not to the core; all cores can be used in all most nowadays wooden doors except American panel and solid wood.
Wooden doors cores: most of the known doors types are created from two panels with a filling within this filling is the core what give the door its durability and weight. Mean cores that are commonly used are Tubular Door Leaf, semi solid wood and honey camp. Tubular door leaf and semi solid wood are made of MDF 6mm as honey camp is made of carton, you can check them from the photo.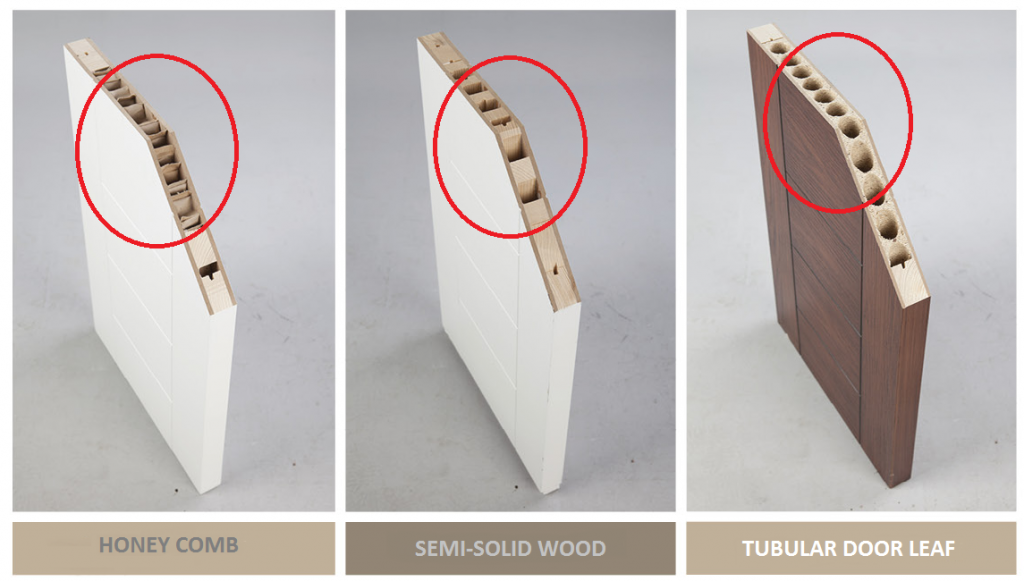 We can divide doors into 6 types and every type include some more types: wood veneered doors, lacquered doors, laminated doors, American panel, solid doors and PVC doors:
wood veneered doors: are for interior usage with its natural wood panels that gives luxurious classic look of it, it suits all most all interior designs especially classic designs. The core is optional but normally honey camp is not preferable for its quality. The panels come with verity of wood types with its colors and its beautiful vines.
Laminated doors: a mid-class doors that are suitable for every interior usage like room doors school doors hospital doors and hotel doors. It came with so many colors and shapes based on request to be one of the best sale doors in the industry. It is made of layer of the natural wood's resin with a thickness of 0.6mm as the cover panel and the core is optional. Melanin doors are type of laminated doors and the only difference between them is the thickness of the cover panel, melanin come with only 0.2mm thickness. These doors are favorable by projects for its 40 min fire endurance, water resistant, antibacterial and general durability.
Painted doors: they are similar to wooden veneered doors in every aspect but their cover panels are painted which divide them into two categories based on the used paint: Normal painted doors and lacquered doors. Normal paint is light paint, you can feel and even see the wood vines through it and it comes with all kind of colors. Lacquered doors paint is especial paint because it contain acrylic what makes it thicker and come not just with all color but also with other color options like mat colors of shining colors.
American panel: a very well-known commercial doors, its core is standard which is honey camp and HDF instead of MDF. The cover panel is thinner than other doors types and it is painted with normal paint. A cheap easy solution for commercial door.
PVC doors: very similar to laminated doors but the cover panel material is PVC which is basically plastic what makes it cheaper. It come with different colors and design upon request, one should not confuse between wooden PVC doors and normal PVC doors, which do not contain and wood and used for specific purposes.
Solid wood doors: or as we can call it the grandfather of all the previous doors. A simple solid natural wood panel with one piece. It came with different kind of woods giving a verity of wooden natural colors. Expensive doors that can be used as interior and exterior door that give a very luxurious and classic feel to every design and place.
Turkish wooden doors industry have flourished through the last 10 years making it an optimal market for customers around the world for its suitable competitive prices and high quality, meeting costumers needs and standards everywhere and being one of the best doors markets globally.
You can check our wooden doors in from our website under interior doors and exterior doors sections and contact us form more further information and details.