Our Vision

With a legacy we received from archaic civilization, power of our land which has been had the silkroad and historical accumulation thousands of years we are competing with the world for Turkey.
What are we doing?
Using the best material, we produce optimum and right products with a applicable budget for you. During to production, we are giving information about the process to our clients thus we provide the shipping on time.
Our Target

Going one step ahead of the innovation, to be one of the most succeeded group brand in not only Turkey but also in Middle East Countries in this headway. We pursue international standard accord and continuous development in our all activities. We want to attain the same success over the world that we had in Turkey.
Doors
lacquered doors, sliding doors, double doors, solid and veneered doors, FR60 min. hotel doors, FR30 fire rated, hotel doors, melamine doors, painted doors, laminated doors for school and hospitals.
Steel Doors
Steel Doors, Apartment Entrance Doors, House Entrance Doors, Village Entrance Doors, Residence Entrance Doors
Fire Exit Doors
our factory
With our understanding that does not compromise on honesty, trust and quality in our business life, which we started in 2009, we have shown continuous growth and development with the interest shown by our customers. In 2011, we increased our factory closed area from 4500 square meters to 8500 square meters with additional investments, and we continue our way with higher quality and faster production by combining art and aesthetics in production with advanced technology machines. As a strong solution partner in housing, hotel and hospital projects, we are at your service with a strong infrastructure and technical team in doors and furniture, with just-in-time and quality production.
Our Inspiration

Bâb-ı Âli Door
Bâb-ı âli known as "Sublime Porte", "High Porte" or "Ottoman Porte" was the residence of the Grand Vizier (Prime Minister of Ottoman Empire). As the concept developed in time the residence was also called as "Pasha Gate" or "Bâb-ı Âsafi". After the "Alemdar Incident" it was rebuilt and began to be called as "Bâb-ı Adl" or "Bâb-ı Adli" referring to the ruling monarch of the period, Sultan Mahmud, who was also known as "Mahmud-ı Adli".
Imperial Door
It is the largest door of Hagia Sophia dated to 6th century, which provides passing to the main structure from the inner narthex section. The Emperor door is 7 meters in length and made of oak and has a bronze frame. The leaves of the door are coated by bronze plates. The door had been used only by the Emperor and his retinue. East-Roman references says the door could be made of the woods of Noah's ark or the wood of the chest of which the Jewish holy plates kept in.
Bâb-ı Hümâyûn Door
Bâb-ı Hümâyûn, first of the three ceremonial gates of Topkapı Palace, built in 1478 by Sultan Mehmet the Conqueror, is the entrance to the first courtyard. Inscribed in marble on the interior and exterior facades, the Koranic verses, the imperial signature (tuğra) of Sultan Abdülaziz and an Arabic inscription signed by Ali b. Yahya es Sufi are dated 1478.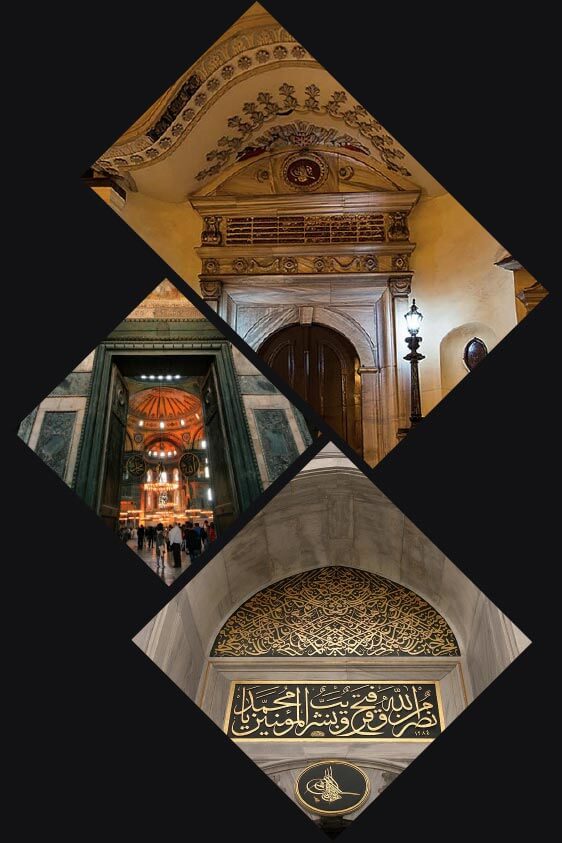 Our Brands